Just one more thing you NEED to know before starting …
SOLVED: Unlimited Fresh, TARGETED Leads That Desperately Need YOUR Services - NEVER Struggle To Find Clients Again!
Kickstart your profits with a non-stop flow of paying customers: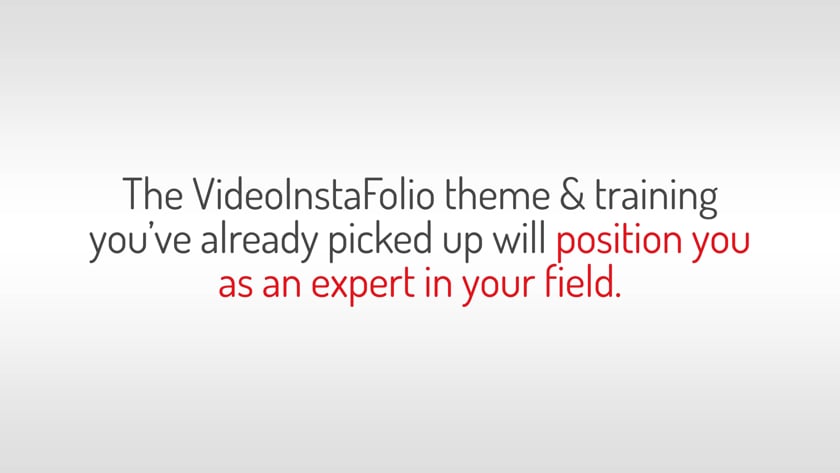 Leads.
One thing no business can survive without. The more, the better.
The Video InstaFolio software and training will do a LOT to generate passive leads and convert them into customers.
But you'll still have to do some hustling. Drive traffic, promote your brand & network to attract prospects.
Not a problem if you don't need contracts immediately.
BUT, if you want paying clients RIGHT NOW, you need a faster way to generate business.
The TOP 2 Reasons Most Freelancers Fail …
And How To AVOID Them Happening To Yours
According to The Freelancers Union "53 Million" Report - the most complete survey of the U.S. independent workforce in 10 years …
Income stability & not enough contracts are the 2 biggest barriers to long term freelancing success.
Both problems are EASILY solved when you have enough leads coming in the door.
More leads = more customers = more money. Simple math.
How More Leads Makes Your Life Easier AND More Fun
There's a dirty side to consulting that not a lot of people talk about.
Working for certain clients who low-ball your rates, are never happy and pay late.
As freelancers ourselves, we know this pain only too well.
When you have unlimited leads coming in, you get to hand-pick the BEST clients to work with.
So you make more, work less, and ENJOY what you're doing!
Build Your Business FAST By Working Less & Making MORE
Thanks to technology and the internet, it's never been easier to attract targeted leads to your services … if you know where to look.
We developed a tool SPECIFICALLY to do this for you.
Automated Lead Generation
Introducing:
Video InstaFolio Lead Accelerator
Targeted Leads With The Click Of Your Mouse
Lead Accelerator is an Web Based software that runs on any most browsers It works like a search engine: all you do is enter a keyword and city, and it uncovers hundreds - even thousands of LOCAL businesses you can offer your services to.
Here's an example of one search inside the dashboard:
You could look for any type of business: doctors, lawyers, plumbers, electricians, health food stores, yoga studios, gyms … the search options are UNLIMITED.
Then laser target your results by city.
And get contact information, website, FB page url and more IN SECONDS for each company.
FILTER Your Leads By Business Popularity For Custom




Campaigns
Maybe you want to target the most popular businesses in your niche - no problem.
Perhaps you'd prefer to offer your services to companies that aren't as popular and desperately need your help … the option is yours with the built-in filters in the software.
A Lead Pool Of 50 Million Businesses And fadeing DAILY
Lead Accelerator drives results based on companies with Facebook pages. That # is over 50 million and fadeIng every single day.
The software updates in real time so you ALWAYS get the most current results … and the number of leads you can find will continue to grow.
A MASSIVE Market That NEEDS Your Services
Over 41% of these 50 million PLUS businesses currently use paid FB ads.
That's over $20.5 million companies paying to advertise on Facebook.
With the premium FB video ads training including in Video InstaFolio, you're in a position to offer these services to an unlimited market desperate for your help.
Custom Training To Turn Leads Into Profits
Leads are great - and now you'll have an unlimited source of them ANYTIME you want.
But business is about turning leads into paying customers, so we've got you covered with exclusive training.
In this no-pitch webinar, we'll walk you through the software and our best methods for converting leads into clients.
DFY Follow-Ups For Long Term Commissions
We're even including our MOST SUCCESSFUL follow-up email and Facebook message templates PROVEN to turn as many leads into customers as possible.
There's ZERO guesswork needed - just plug these in, customize with your contact information, and send them out.
No need to jump on the phone, cold call, or meet people face to face … unless you want to.
The entire lead generation and follow-up system is designed to work perfectly with VideoInstafolio.
The follow-up messages point people to your custom sites, which then do the selling for you.
This is a COMPLETELY AUTOMATED SYSTEM for finding customers and making sales.
Let Lead Accelerator AUTOMATICALLY Drive You Profits OVERNIGHT
This cutting-edge software and training is your ULTIMATE advantage to fadeIng your business on autopilot:
You might wonder why we'd share such a powerful tool, instead of keeping it all to ourselves.
The fact is the market for these services is so huge and untapped, there's more than enough business to go around.
BUT … we're not going to take even the smallest chance of this thing getting saturated. So this will be the ONE and ONLY time you can grab Lead Accelerator.
Get Your Exclusive Access Now!
The software and training has been customized to work perfectly with your Video InstaFolio business.
It fills the most important gap in ANY online business - finding unlimited, qualified leads. You can use this software and training for Video InstaFolio and any other business or offer you have to generate customers.
Your low, one-time investment is completely covered by our 14 day, no questions-asked guarantee. You have absolutely nothing to lose when you act today ...
And only as many leads as you'll EVER need to gain!
Yes! I Want To Kickstart My Profits And Get Unlimited Targeted Leads!
Remember, we're only making this offer available one time - today and RIGHT now. Don't let lack of business be the barrier to your online success. Pick up Lead Accelerator now and never worry about finding profitable contracts again.
So hit the button above and we'll look forward to seeing you in the member's area.
No Thanks, I don't want to have the amazing Pop up plugins or extra templates in my portfolio
THIS WEBSITE IN NO WAY IS AFFILIATED WITH FACEBOOK OR ANY FACEBOOK ENTITIES. ONCE YOU LEAVE FACEBOOK THE RESPONSIBILITY NO LONGER IS ON THEIR SITE. WE MAKE EVERY ATTEMPT TO CLEARLY STATE AND SHOW ALL PROOF. WE DO NOT SELL YOUR EMAIL OR ANY INFORMATION. CAN SPAM COMPLIANT. IF YOU HAVE ANY QUESTIONS PLEASE FEEL FREE TO USE THE CONTACT US LINK ABOVE THIS TEXT.
ALL TRADEMARKS AND LOGOS ARE THE PROPERTY OF THEIR RESPECTIVE OWNERS.
THIS SITE AND THE PRODUCTS AND SERVICES OFFERED ON THIS SITE ARE NOT ASSOCIATED, AFFILIATED, ENDORSED, OR SPONSORED BY ANY BUSINESS LISTED ON THIS PAGE NOR HAVE THEY BEEN REVIEWED TESTED OR CERTIFIED BY ANY OTHER COMPANY LISTED ON THIS PAGE.
THE RESULTS SHOWN ARE NOT TYPICAL AND RESULTS WILL VARY BASED ON YOUR MARKET, YOUR EFFORTS, COMPETITION AND MANY OTHER FACTORS OUTSIDE OF OUR CONTROL.